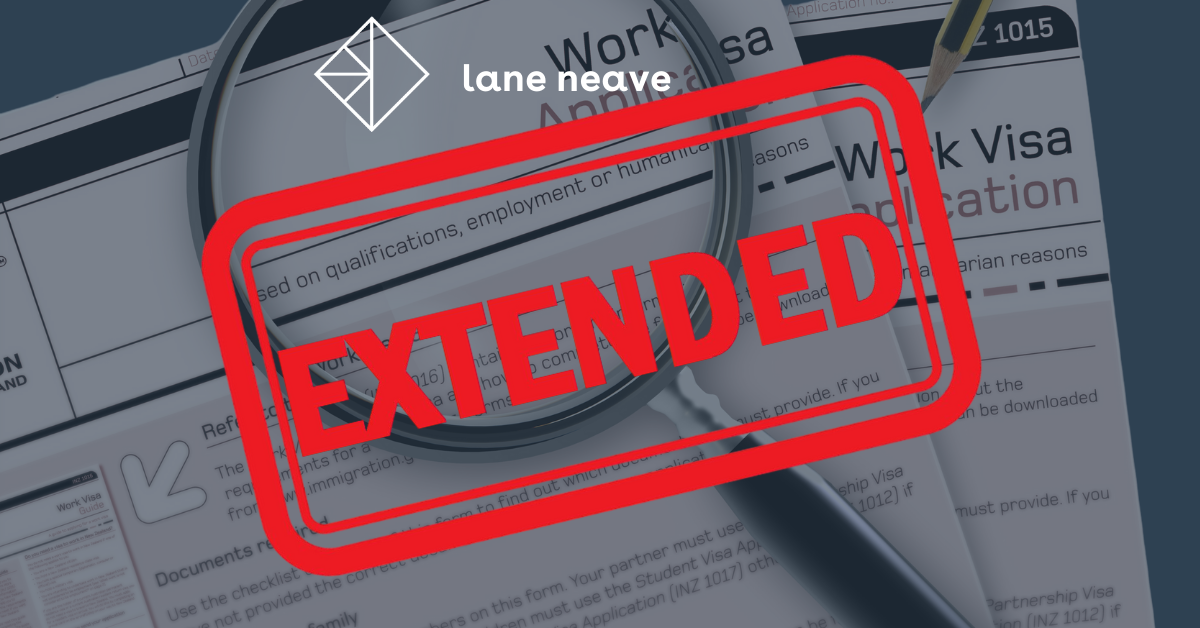 In what is widely thought to be the final act of this nature, the New Zealand Government announced, on 7 July 2020, that it will automatically be extending employer-assisted work visas expiring between 10 July 2020 and 31 December 2020, for a period of six months from the date of expiry.
As with any Government announcement of this nature, there will be winners and losers, but the key for both employers and migrant workers alike is to understand the difference that application timings may have on the outcome and plan accordingly.
We summarise the key announcements below.
Six month auto-extension
The following employer-assisted work visas will be automatically extended:
Essential Skills Work Visa
Work to Residence visas
Special and Skilled work visas for China, Indonesia, South Korea, Philippines and Vietnam
Special category work visas for Japanese Interpreters and Thai Chefs
Work visas granted under section 61 of the Immigration Act 2009 that specify an employer
The extension will be for six months from the date of original visa expiry. We expect email notifications confirming visa extensions to be circulated by Immigration New Zealand on Tuesday, 14 July 2020.
It is important to note that these extensions will only be provided to onshore holders of employer-assisted visas and not to holders of any other types of temporary visas, such as partnership-based visas, post-study visas, student visas, visitor visas. These individuals will need to apply for a new visa in the usual manner or make arrangements to depart New Zealand.
Also notably absent from the list of employer-assisted work visas are specific purpose work visas. Although we are seeking clarification on this point, our view is that holders of these visas will not be eligible for the six month extension on the basis that the objective of these visas is to facilitate entry for applicants from offshore where there is no risk of a negative impact on opportunities for New Zealand citizens and residents, so allowing these visas to end at their allocated time should not impact on the local labour market.
It is also important to note that all conditions of an extended visa will remain the same, including job title and location. If the conditions of a visa holder's employment have changed (or employment has ended), such individuals must first apply for a variation of conditions or a new visa if required.
Pro's and con's
Those who will benefit from these extensions, particularly Essential Skills work visa holders, should take note that the Government made it clear that although these extensions are designed to provide immediate relief to workers and their employers, they have also (and importantly) been designed to allow a small window of opportunity to adjust to changing labour market conditions with higher unemployment rates and where more New Zealanders will be available for work.
The takeaway message here is that it will almost certainly be more difficult to obtain Essential Skills work visas after this round of extensions and it would be wise therefore to take steps toward applying for further, longer term, Essential Skills work visas before this relief period runs out. We also anticipate processing delays to increase with time.
12-month offshore stand-down delayed
In order to align with the six month auto-extension, for visa holders who would have been subject to the 12-month offshore stand-down between August 2020 and the end of December 2020, the stand down period has been delayed. This change is expected to impact approximately 600 migrant workers who would have been subject to the offshore stand-down. Under this provision, these migrant workers will be able to stay in New Zealand and work for the same employer and in the same location for an additional six months.
Some Essential Skills work visas reduced to six months
Another important change is that all Essential Skills work visas lodged from 10 July 2020 that are assessed as lower-skilled (think ANZSCO skill level 4 and 5 positions) will only be granted for a period of six months.
This reduced visa length is expected to be in place for the next 18 months and will allow INZ the opportunity to re-test the labour market more frequently to account for constantly changing labour market conditions.
ANZSCO requirements
The announcement also flagged the intention that from 27 July 2020, ANZSCO will no longer be used to determine the conditions of Essential Skills work visas. Instead, the application will be assessed based on whether the pay rate is above or below the median wage (currently set at $25.50 per hour). For those roles paid below the median wage, they will be assessed as lower-paid, meaning the visa will be issued for a maximum duration of six months. The rate of pay will also be used to determine the type of labour market testing that will be required to support the work visa application.
These changes present both challenges and opportunities for migrant workers and a careful analysis of rate of pay and ANZSCO will mean that some will be better off applying before 27 July 2020, while others will be better off making their application after that date. We are expecting further announcements on this change in the next few days and will release further articles as more information becomes available.
How can we help?
If you require assistance or guidance with an application, whether you are a migrant employee or employer, please reach out to us. We have extensive experience in dealing with tight labour markets and have pooled our large team's capability in preparing precedent documents and approaches that meet the new challenge "head on" at lodgement.
With a 150 year history, Lane Neave is one of New Zealand's largest and most highly regarded full service law firms. We have built a culture of collaboration and excellence and believe legal services are about more than just the law. At Lane Neave, we believe it's about great people, delivering quality work and outstanding client service.
To find out more about how we can support you or your employees through the visa and immigration process, please get in touch with our Immigration Team.
Sign up for news
Our team issues regular newsletters on immigration-related topics as well as up-to-the-minute alerts when immigration policy changes are announced.