In this edition:
Parent Resident Visa Category will open again in February 2020
The Minister of Immigration has recently announced that the Parent Resident Visa Category will open again in February 2020 with the first selection of applicants being offered residency to take place in May 2020.
For those migrants who have not reviewed the content of the Minister's announcement, Lane Neave has published a summary of the new requirements and our view on the impact of this policy. We are still awaiting the specific details of the policy and will continue to provide our views and advice as further announcements are made.
A significant increase in sponsorship thresholds means that, unfortunately, the parents of many New Zealanders will not be eligible under the new criteria. Given that this is also the feedback we have received from the migrant community, we will provide our thoughts on some of the alternative options where applicants do not meet the new policy thresholds.
An approach to the Minister, or Associate Minister, of Immigration requesting residence be granted to parents as a special direction is one avenue to pursue for family's with compelling circumstances. Our view is that given the recent announcement there is a clear indication that the government will be unwilling to grant residence outside of the policy, except in the most compelling of circumstances.
For parents who are already, or able to be, in New Zealand on temporary visa and have compelling reasons for remaining, an alternative approach of an appeal to the Immigration and Protection Tribunal (IPT) may have a more realistic chance of gaining residency than applying for a special direction from the Minister. Parents already in New Zealand can tactically let their temporary visas expire and then lodge an appeal against deportation on humanitarian grounds. The IPT then has the discretion to order Immigration New Zealand to issue a resident visa on a successful appeal against liability for deportation on humanitarian grounds.
Any decision whether to pursue a special direction or appeal to the IPT will be a case-by-case assessment depending on the circumstances of a family. Whilst both avenues have been a successful route for parents previously outside the policy, the recent announcement and current immigration climate suggest that the special direction route will be very tough moving forward.
As both these options carry a number of risks for applicants, particularly the latter option which would render the applicant unlawful in New Zealand, we strongly recommend taking good immigration advice to understand all the pro's and con's before embarking on either approach.
We will be monitoring the progress of the new parent policy and publishing further on this topic. If you require further information, please contact our team for guidance. 
For further information or assistance with emigration please contact Lane Neave Lawyers on + 64 3 379 3720 or email liveinnewzealand@laneneave.co.nz

New Zealand listed health care sector
The Health care sector makes up just under 20% of the S&P/NZX 50 index. The Health care sector is generally viewed as a defensive sector in a lot of overseas markets, as it is made up of many large pharmaceutical, hospitals and health insurance companies.
In New Zealand it is a growth sector. Of the 7 largest health care companies in the NZX50 index, 5 of them are retirement village operators. We have a relatively unique retirement village operating model. Generally, retirees sell their own house and buy an occupancy right in the village, which normally would be cheaper than buying a similar unit in the same area, retirees would pay on-going management fees to the village operators until the end, then the village operators would purchase back the unit at an agreed discounted price to renovate and resell to the next user. The retirement village would keep the capital gain on housing inflation over the years, not the retirees. While retirement villages provide some caring facilities, they mostly service independent living retirees.
Retirement villages are benefiting from the retirement of the baby boomer generation and this trend is expected to continue for the next 10-15 years. The rates of developing and selling retirement units are closely linked to the housing market. Back in the global financial crisis, as retirees were unable to sell their houses at the price they wanted, the demands for the retirement units dropped significantly, so did their share prices. As the economy recovered and housing market grew, the sector has been enjoying a boom in development. On saying that, Auckland housing prices have been side tracking in the last 2 years. The impact to each operator was varied due to the locations of the village developments, track records etc.
The other listed health care companies are interesting and diversified. Fisher & Paykel Healthcare is a highly innovative medical device company focusing on export markets. EBOS Group focus on marketing and distributing of medical consumable products in Australasia. Both companies' shares have had great performances in the past and have been core holdings in many investor's portfolio.
Smaller health care companies that are outside the NZX50 has exhibited typical characteristic of small capitalisation companies: less liquid on trading volume, less diversified business lines and limited market exposures. Investors with deep understandings in their products or markets would benefit from long term investment.
The health care sector in prospective is an important part of an investment portfolio. Overseas investors should not treat NZ healthcare sector the same as US or European healthcare sector, due to our size, unique sector composition and characteristic. Overall this is a growth sector that suitable for investors looking for diversification in their New Zealand portfolio allocation.
Article provided by Ally Cui – Director, JB Were.

www.jbwere.co.nz
Online advertising is a strong indicator of economic confidence and potential growth
Online advertising by NZ employers is a strong indicator of economic confidence and potential growth. Last business quarter's data in this regard reflects a lift in employer optimism.
On line job advertising took a step into positive territory in September. September's job ads were also robust enough to keep the annual rate of change in positive territory.
Seek NZ and BNZ have released some interesting data in this regard.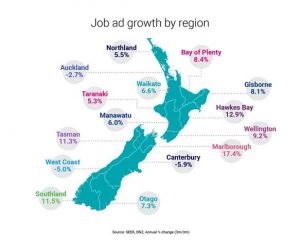 Growth pulse strongest outside three main cities
While Auckland was playing its part in the budding positivity, improvements over recent months have been more obvious in many of the smaller regions.
Bay of Plenty has perhaps been the best example, but with improvements in the likes of Tasman, Waikato and Southland clear enough too.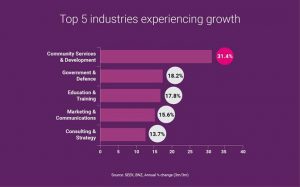 By industry, government-type categories were still to the fore in terms of expansion.
When comparing the September quarter of 2019 with that of a year ago, Government & Defence, and Education & Training, each logged annual growth of 18%.
Meanwhile, the Real Estate & Property, Insurance & Superannuation and Design & Architecture sectors were among those that saw decline in job ad numbers.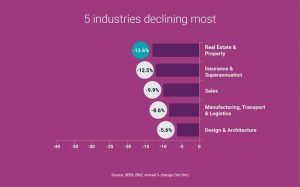 While general business confidence in New Zealand remains low, recent surveys have not been overwhelmingly weak with respect to hiring intentions.
Last week's NZIER Quarterly Survey of Business Opinion, for instance, recorded a 3-month outlook on employment better than it was a quarter ago.
Article provided by Steve Baker, Enterprise.
We offer a complimentary CV review and feedback on your employability in New Zealand.
We can be contacted via Steve Baker on 00 64 27 2125483 or steve.baker@enterprise.co.nz.